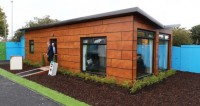 I have criticised news that the cost of 22 new modular units in Ballymun would cost a total of 4.2 million euro, which he said was more than it would cost to build real social housing with bricks and mortar. The site in question in Ballymun had already been developed with a plan for houses to be built there in the future.
We are in an emergency in relation to homelessness and accommodation for homeless people, but that does not mean we act without any thought. We need housing right now for these families who currently are stuck in hotels and B&B's, but short term accommodation which is more expensive than a brick and mortar house which will last for decades, makes no sense.
We also have concerns for that the firm award to contract to provide these units currently has four of its previous contracts audited for fire safety. Such an investigation must be considered very strongly when continuing with a contract worth millions, which is supposed to provide secure and safe temporary housing for families. Safety is of the utmost importance.
I am calling on the Minister to review the Ballymun site in question given the work already done to provide real housing in this area and the fact that these units will be costing nearly 15,000 euro more than the Department of Environment and others say a new social housing build would cost. I fear the government are using modular housing to further avoid their responsibility to deliver housing. In the first six months of the year, the Department of Environment says just 20 social houses were built.
If modular housing is to be used to help homeless families it needs to be safe and well planned, but also not block the construction of brick and mortar social housing which is desperately needed.