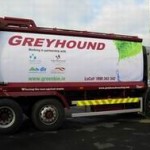 Greyhound recycling has given Dublin City Council residents just four weeks to pay a €100 bin charge forced on them. Struggling families will be told next week to either pay up by 15th February or face non collection of your bins. This is in contrast to Dublin City Council whereby homeowners paid €25 a quarter.
Ballymun Sinn Féin Local Representative Noeleen Reilly has slammed Dublin City Council for leaving residents at the mercy of Greyhound Recycling. She further added 'January is typically a tight month for families and this is just another example of pressure being put on hard working people With the Household Charge of €100 also now due the early part of 2012 looks like it will be very costly for home owners.
Dumping is already a problem in Ballymun and surrounding areas; it will become a massive issue when these draconian charges are imposed on top of all the other regressive charges that this anti-worker FG/Labour government is using to bail out greedy incompetent bankers.