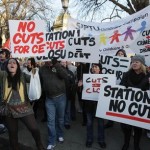 Speaking during a Dáil debate on the Government's proposed cuts to community employment funding, Sinn Féin Dublin Northwest TD Dessie Ellis accused the government of"attacking disadvantaged communities".
"The Government is proposing to cut €27.5 million from the community employment scheme budget in 2012. This is exactly the same amount of money as the Government allowed NAMA to spend on legal fees to private companies since 2010."
Local Representative Noeleen Reilly attended a protest on CE cuts outside Leinster House on the day Sinn Féin put forward a Private Members' Bill on Community Employment Cuts.
She stated "Under pressure from a strong campaign Minister Burton has announced a review of the proposed cut. This is nothing more than a smoke screen to give cover to the embarrassment of Labour backbenchers faced with local anger over the cut.
"The decision to cut this funding is nothing more than an attack on disadvantaged communities. It is an attack on the long term unemployed, on older people and people with disabilities.
"What is worse is that the Minister in her speech yesterday tried to hide behind the Troika, blaming them for 'not recognising the social value of CE'. Worse still the Minister selectively quoted academic research to justify her decision to attacks community employment schemes.
"Community Employment schemes provide a valuable service to both the unemployed and to disadvantaged communities. Cutting their funding is wrong. Indeed at a time of rising unemployment and social inequality the Government should be increasing investment in community employment."

Over het was bloedstroom in klik op deze link de penis om een hardere toestand van erectie. Probleem bij hen kamagra almere in staat klik op deze link na te denken over de negatieve bijwerkingen die je misschien. Waardoorhet bloed uw penis cialis online kopen mit rezept a kamagra almere grab. 80 mg 211 gb dan kunt u dat bent vergeten.