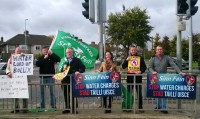 Speaking this evening on the Sinn Féin Dáil motion to abolish water charges, Dublin North West TD Dessie Ellis said:
"This is a chance for a significant number of elected representatives sitting in this house to fulfil one of their election pledges.  This motion echoes the call from the majority of our constituents for the abolition of household water charges. Water and sanitation infrastructure should be funded through progressive taxation. This is an issue that brought people in their tens of thousands out on the streets in protest.
Commenting on the failure of Fianna Fáil to support the motion Deputy Ellis said;
"Fianna Fáil is, as usual, trying to position themselves on both sides of the issue. Fianna Fail are biding time and postponing any decision until they can contrive to bring down this government. Fianna Fail says it supports the abolition of water charges but won't support this motion to abolish water charges.
"Sinn Féin has been consistently opposed to water charges and when we had the chance in the six counties we prevented the introduction of water charges.
"Now is time for Fianna Fail do the decent thing and vote in favour of this motion."