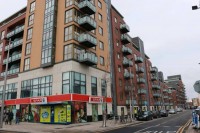 I am calling on the government to intervene in the ongoing Dockland's crisis. The Dublin Docklands Development Authority has offered €2.75 million to fund the fire safety works leaving the residents to pick up the remainder of the €4 million cost, a situation which is simply unacceptable. Residents should not be liable for any cost in securing the safety of these apartments – that is the responsibility of the developer.
The similarities between the Dockland's situation and Priory Hall in 2011 are striking. To date, resolving the issues at Priory hall has cost Dublin City Council over €27 million, meaning the state is effectively paying for faults of developers.
There are Docklands residents who cannot afford the €18,000 needed to make their homes safe, so where does that leave them? The government must act decisively to ensure no resident is left without a home.