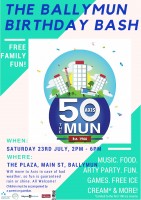 2016 marks the 50th anniversary of the first residents moving in to the Ballymun Estate. We can't let Ballymun shimmy in to her 50's without celebrating her!
A group of local volunteers, organizations and businesses are organizing a community event on the Plaza for the afternoon of Saturday July 23rd from 2pm – 6pm. There'll be music, a games area, an arty party, a picnic area hosted by Supervalu and possibly even some free ice cream!
This is a FREE community event that is suitable for all ages. Keep an eye on this page for more updates and do spread the word to neighbors, family and friends so that you can all join us for a great day celebrating Ballymun!