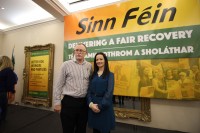 Today we launched our manifesto to deliver a fair recovery for ordinary people – putting money back into our public services is an essential part of our plan. Michael Noonan previously said that the USC was a 'permanent feature' of the tax system. Now he's saying he wants to abolish it. FG/LAB will say anything to get back into power.
To get rid of the USC in its entirety would be unfair and reckless. The move benefits the better off a lot more than someone on an average wage and will mean that some high earners will be more than €10,000 better off while someone who earns €18,000 a year will be about €100 a year better off. It also involves taking the equivalent of the entire health and education budgets out of the tax system over five years.
Sinn Féin wants a fair and sustainable recovery. In government we will introduce a fair tax system. In government we would
• We will abolish the Local Property Tax, saving 1.8 million homeowners an average of €244 per year.
• We will scrap water charges, saving a family of two adults €260 per year.
• We will remove 277,000 workers from the USC.
• We will ease the tax burden on the self-employed, moving towards the equalisation of the Self-Employed Tax Credit with the PAYE Tax Credit.