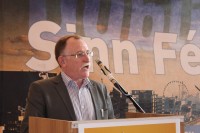 Sinn Féin TD Dessie Ellis is disappointed with the outcome of a series of meetings with Minister for Children and Youth Affairs Katherine Zappone, TDs from Dublin North West, officials from various government Departments, and young Ballymun representatives.
Deputy Ellis said:
"It's clear that the funding needed to continue the entire programme as rolled out over the years will not be forthcoming. However, the Minister has agreed to increase the funding by a quarter of the budget already allocated. Despite this intervention, it is not enough for the project to continue fully but Young Ballymun will continue to exist albeit in a focused and targeted manner.
"It's clear that in attempts to tackle child poverty and social disadvantage the Young Ballymun model has achieved remarkable results. Many children and parents across the area have had a positive experience and Young Ballymun changed their lives for the better. The final report showed that Young Ballymun had achieved impressive outcomes in all areas of implementation and that these kinds of changes and outcomes affected the community in a very positive way. It has shown that this project could be a positive template for other areas.
"It is a huge disappointment that this government hasn't the vision to take on board this model and roll it out across disadvantaged communities across the country. Sinn Féin and I will continue to advocate for the Ballymun model to be used as a template into the future."