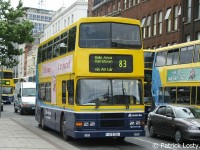 Minister launches new buses while cutting service – Ellis
October 12, 2012
Sinn Féin Transport spokesperson Dessie Ellis has today described as shameful the behaviour of Minister Leo Varadkar who yesterday basked in the glory of launching a new fleet of Dublin Buses a day after withholding €36 million in promised funding to CIÉ.
Deputy Ellis continued;
"The irony of this is not lost on people. Minister Varadkar may enjoy the limelight of launching new buses but he is systematically dismantling public transport in this state, through cuts, reforms and fare hikes.
"Dublin Bus is part of CIÉ which has had its yearly state subvention cut from €312 million in 2009 to €242 million today and Varadkar is intent on making a further €40 million cut to this by 2014.
"He is gutting the companies under CIÉ with these cuts and forcing them to provide less of a service for higher prices. Minister Varadkar has stated publicly that fare hikes damage public transport and discourage use of it but has forced the companies to do just that.
"No one can take seriously a government which speaks about smarter travel as they make public transport less accessible and less attractive while running down services and cutting routes."