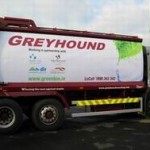 Dessie Ellis TD and Local Representative Noeleen Reilly have called Dublin City Council to clarify exactly what customer details it has provided to Greyhound following the Office of the Data Protection Commission announcement that it is investigating the Council.
Deputy Ellis said:
"Sinn Féin consistently opposed the privatisation of Dublin City Council's waste collection service and many of our reasons for doing so have come to pass.
My constituency office has been inundated with calls from very angry residents whose bins were not collected and who were also alarmed to hear that Dublin city council had passed on their details without permission.
Local Sinn Féin representative Noeleen Reilly further added "Increased charges are on the horizon, the waiver scheme is in jeopardy, the company's payment method is causing a problem and, to rub salt into the wounds, it appears the Council management may have provided information about debts owed to Greyhound Recycling and Recovery.
"Dublin City Council management need to publically clarify, as a matter of urgency, exactly what customer details it has provided to Greyhound about its 140,000 customers and, if debt information was provided, the Data Commissioner must ensure that Greyhound does not add this information to its customer database."