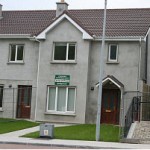 Sinn Féin spokesperson on housing Dessie Ellis TD has condemned as scandalous that 230,000 homes lie vacant across the state despite the fact that nearly 100,000 people are on housing waiting lists and 5,000 people are homeless.
He made his comments following the release of new figures on vacant housing published yesterday in The Roof Over Our Heads which is part of the CSO series of reports on the findings of Census 2011.
The deputy continued:
"The report found that despite such a great need for housing in the state no shortage exists. The report found 61,628 vacant apartments, up nearly 50% since 2006, and 168,427 vacant houses across the country. Dublin, which has the highest number of homeless people, has 16,321 empty apartments."
"What is stopping people from being housed is the real lack of units available for them in public stock. Homelessness advocacy groups have called for a Housing First policy which has fallen on deaf ears with the government which is cutting spending on housing dramatically and shirking their responsibility. These vacant homes could in many circumstances be used to house people in the absence of a real investment in a social housing build but the government has failed to even make a considerable move on delivering the 2000 units promised from NAMA last year."

"The government needs to wake up to the crisis in housing and to put in place a serious strategy to cut waiting lists and progress on their promise to end homelessness."
What if we want to be women and also think like them too. If this person can't be bothered to share a little about themselves, then BBW singles place they're obviously not that interested in meeting someone through the online dating site.