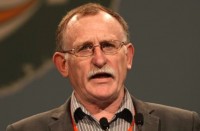 Sinn Fein Housing spokesperson Dessie Ellis TD has today introduced a Bill in the Dáil to provide for measures to prevent homelessness and limit rent increases. He said he hoped to have a debate on the Bill in the Dáil in the near future.
Deputy Ellis said:
"Firstly I'd like to thank the excellent advocacy work of groups like Focus Ireland, Threshold, Simon, the Peter McVerry Trust and SVP who have fought long and hard for the kind of reform contained in this simple but important and timely bill.
"Today we have an ever growing population of people who are without a home or secure accommodation. Thousands of people every night sleep in B&B's, hostels and hotel rooms. Hundreds sleep rough, on the floor of night cafes. Many more invisible homeless sleep in abandoned buildings, dark corners where no one looks or on the sofas or floors of a friend or relative. At least 1,500 of our homeless are children – children who must get up, go to school and learn about life through the prism of desperate need, isolation and insecurity.
"The many causes of this emergency are all interacting to create a perfect storm but the failure itself lies firmly at the door of government. The groundwork had been laid for the crisis long before this government took office but their inaction, and even in some cases reckless action, has turned a fire into an inferno – a wave into a tsunami.
"This Bill seeks to amend Section 2 and Section 10 of the Housing Act 1988 to update the definition of homelessness and bring in new responsibilities for Local Authorities in dealing with homelessness and people affected by it.
"It provides for the Local Authority to consider the position of families and individuals at risk of homelessness, as well as those already experiencing it, and so compels the authority to act in a preventative way. Prevention is better than cure we are always reminded, but that is not the case when you consider policy for tackling homelessness. Homelessness is treated like a dangerous contagious and terminal disease which must be quarantined and controlled.
"The amendment to Section 10 provides for funding for bodies such as Local Authorities and Approved Housing Bodies to support interventions which would prevent homelessness and adequately deal with the problem to ensure the housing of people who need support. A crucial point of this amendment is to open resources to those who have not previously experienced homelessness, so as to prevent them from falling into this pit, or quickly remedy the individual crisis.
"The last section is to do the job the government failed to do for the last five years, to put a lid of rent rates. The government failed to deliver rent certainty, only providing for a delay in rent increases. Rent Certainty is the limiting of rent increases over a period of time, not simply the delay of such increases. This Bill would tie increases to the rate of inflation which would only provide landlords with the ability to raise rents within a small margin or not at all. This would provide real certainty.
"No Bill is perfect and I welcome constructive criticism which is intended to enhance the bill and to deliver on its aims. Rejection of the Bill by this government, as often happens with opposition bills is totally unacceptable given its very reasonable and needed content."